Enjoy a meal, snack or drink at this refreshing and convivial outdoor food market.
Turn up the heat
The Kurb reminds me of the Foodhallen in Amsterdam, an indoor food market and bar serving up a range of high-end street food and beverages. Even though The Kurb doesn't host as many food vendors as its Dutch counterpart, there's still enough culinary variety there to put a smile on your face.
The Kurb has its credo Eat. Drink. Play. written on its lean, black walls. These three things can be practiced in front of the food stalls, or – even better – on the spacious rooftop terrace where you can take a seat on wooden folding chairs or at picknick tables. Not every sitting offers shelter against sun, wind or rain and since you're quite exposed up there, choose wisely.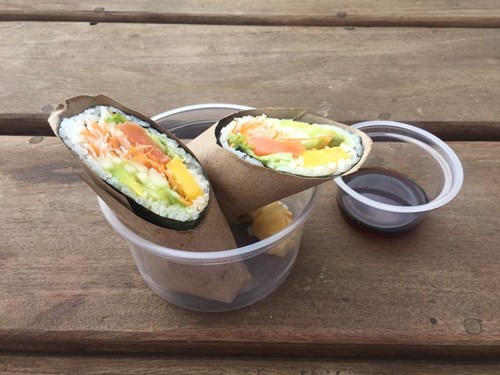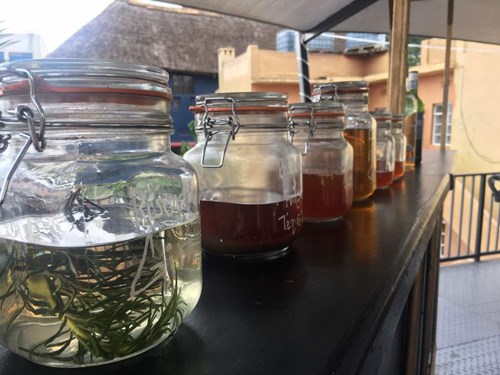 From sushi to hotdog
The waitress will present you with different menus, belonging to Yatai Lab by Yujo, Farmhouse Favourites, The Little Donkey and Wing It! Afterwards she'll present you with different receipts as well which need to be paid at the appropriate food stall.
We decided to roll with the salmon sushi burrito (the salmon and mango make a good pair, although the fish played a modest part), hotdogs (a tasty sausage for just 6.000 UGX) and the chicken quesadilla's with fresh quacamole (quesadilla's are always a good idea). Since we didn't try Wing It!'s wings in bbq, buffalo or piri piri sauce, we definitely have to come back soon.  
Cocktail Bar The Embers has set up shop in the corner, to pair your quirky qooch burger with a Tequila Mockingbird. Don't get any ideas though, The Kurb is a family place where the lights go out at 12:00 am.
Don't forget to take a look at the second part (or first part, depends on where you're standing) of The Kurb, where you can buy brood at Bbrood, a healthy salad and a detox juice at KweNu or a coffee or tea at Kaffe Kaffe. Or have some work done at Tribe Kampala, a coworking and community space.
A ♥ Kampalala
The Kurb
Plot 4 and 8, Sturrock Road, Kisementi in Kololo
12:00 pm – 12:00 am